BROOKSVILLE, March 3, 2022--
As the final week of the 2022 FL Legislative Session begins, educators, parents and students across the state are still waiting for Tallahassee legislators to provide real solutions to the most significant challenge our public schools are facing today: the growing educator shortage!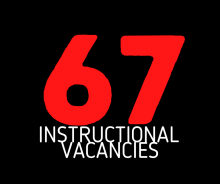 As of March 6th, the HCSD website shows 67 full-time instructional vacancies posted for the 2021-22 school year. Classroom teachers, school counselors, school psychologists, and social workers are in high demand and seemingly short supply. Moreover, every vacancy represents potential diminishment of services for students and added work responsibilities for the educators who are in our schools. 
We know that the FL Legislature has the power to address this very real crisis, but time is running out for this legislature to respond! HCTA members are actively advocating for the solutions that are so desperately needed:
Our public schools serve 90% of all students in our communities. Shouldn't our schools be supported in ways that ensure EVERY student in them has a full-time, highly-qualified, dedicated educators meeting their learning needs? Click on any of the solutions above and read more, then TAKE ACTION!